Top 5 Male Comedians Who Are Famous For Playing Funny Feminine Role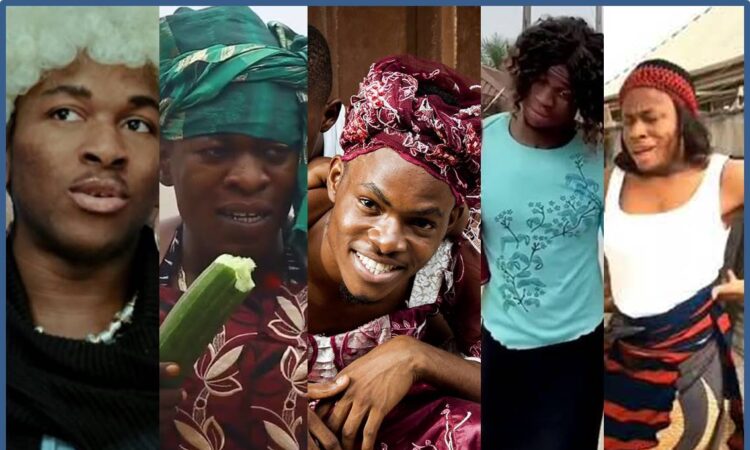 Social Media is filled with too much buzz and entertainment, Instagram is probably the center of that entertainment. Instagram has seen the rise of many Nigerian content creators who regularly dish out contents to entertain their fans and followers.
These male Instagram comedians as listed below have taken the Feminine role to another level as they regularly play well defined roles in their comics stripes.
Isaac Aloma Junior who is popularly known on social media as Zicsaloma, is a popular social media sensation who came out to gain limelight last year (2020) and he is also known with other aliases like Sis Ekwitus, Mama Amazing Grace and others.
He plays a well defined and perfect feminine role in his comic videos just the way his fans want it to be. He boasts of over a million followers across his social media handles.
Akwudike Chukwudike who is popularly known on social media as Iamdikeh, is a popular Instagram comedian who has risen up in the ranks amongst other top comedians. He is also for play a motherly character in his comic videos where he regularly dishing out outrageous slaps to her young son.
Large part of his success can also attributed to his younger brother "Chinedu" who plays the role of a son in the comic stripes. He boasts of over a thousand Instagram followers.
These list won't be complete without the ever reliable Twyse who has been in the business of making comics videos for a very long time. He is popularly known for playing feminine roles like Mama Tobi, Sade, Grandma in his funny but hilarious comics stripes.
He boasts over a million Instagram followers.
These young man's comedy videos has regularly raised highbrows s fans and viewer struggle to differentiate him between a real Female as his antics are just too good.
Madjohnny is probably the best at this game as he plays the feminine roles in a well defined and perfect manner. He boasts of over two hundred thousand Instagram followers.
Sir One is very funny and hilarious young man who has won the hearts of many entertainment lovers with his funny antics in feminine dresses.
Popularly known by his alias name "Woman Leader", he boasts of over a thousand Instagram followers and has continued to rise to prominence.