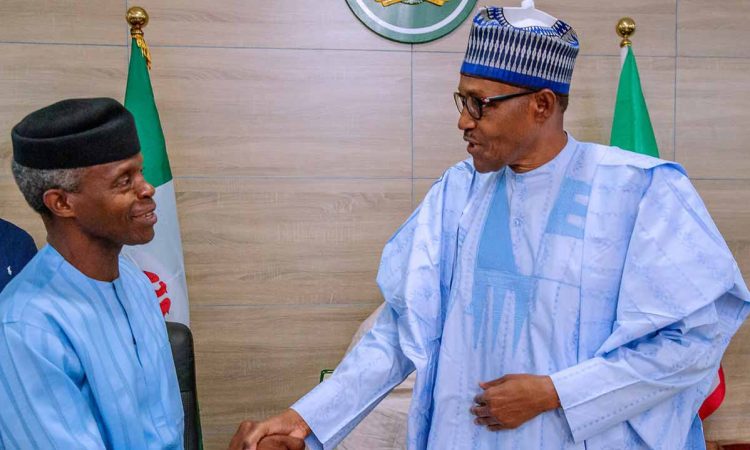 The Vice President of Nigeria, Professor Yemi Osinbajo has reportedly informed President Muhammadu Buhari about his decision to contest the 2023 presidency.
According to Daily Trust, Osinbajo wants to step into Buhari's shoes to continue implementing the policies initiated by the current administration.
"Certainly, VP Osinbajo has told the president that he wants to succeed him," one of the sources said.
"The vice president had first consulted some prominent Nigerians who encouraged him to vie for the presidency and they also encouraged him to tell the president himself.
"They told him not to allow a third party to tell the president so that the ambition will not be misconstrued," the source added.
Another source stated that after listening to Osinbajo, President Buhari gave him his blessings just the way he has done to others who indicated interest before him.
Buhari smiled in his usual characteristic manner…he listened to the VP carefully and while responding, he gave him the green light and wished him well without giving him any commitment or assurance of supporting him ahead of other contenders.
"He blessed the intention just the way he blessed Tinubu when he visited him in the Villa and unveiled his plan to vie for the presidency.
"And I think the president is being careful. Remember what he said while granting an interview to a national television," the source said.
Meanwhile, a close confidant of President Muhammadu Buhari and chieftain of the All Progressives Congress (APC), Senator Abu Ibrahim has declared that Asiwaju Bola Tinubu will get Buhari's support for his 2023 presidential ambition.
Ibrahim said the northern region and particularly, northwest politicians will be at loss in the future if Buhari refuses to support Tinubu's 2023 presidential ambition.
According to him, Asiwaju Tinubu mobilized southwest votes for Buhari in 2015 and it's simply payback time. He added that should Buhari fail to support Tinubu, the north will be seen as traitors and won't enjoy the trust and partnership such as brought Buhari into power.
He specifically pointed out that Tinubu is a benefactor to both Vice President Yemi Osinbajo and Governor Kayode Fayemi of Ekiti State, hence both of them won't want to rock the boat by contesting against the APC National Leader in 2023.
Speaking on the reported presidential ambitions of Osinbajo and Fayemi, the former lawmaker insisted that both of them won't contest against Tinubu.