#BBNaija: 3 Suprising Things Many People Don't Know About Lucy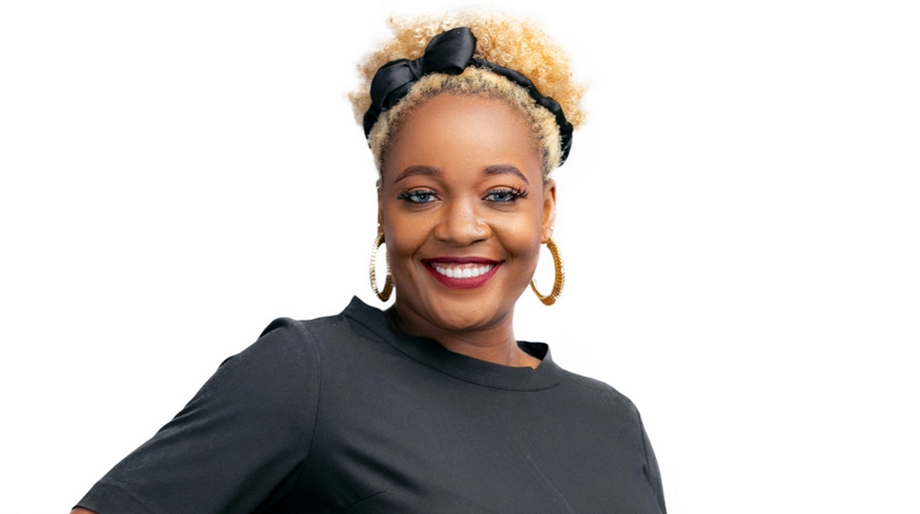 Big Brother Nigeria, is the new craze of the town. There's no denying it. There's no running away from it. In fact, if you're a Nigerian then you know that BBNaija news now haunts us E-VE-RY-WHERE. It's every other post on our news feed, it's every other notification, it's what everybody in your church and Whatsapp group is talking about. It is everywhere!
And this of course isn't new, this is how it goes every single year. This season is BBNaija Season 5 and it's has some interesting housemates. One of these housemates is someone called Lucy.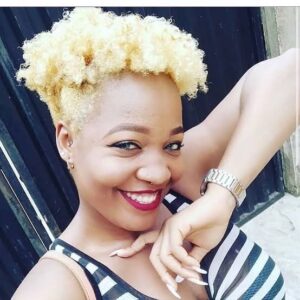 Naijmobile have done some  digging from the archives and we here today to share with you 3 surprising  things you, your friends and family members didn't know about BBNaija's Lucy.
She Sells 'Bole' Roasted Plantain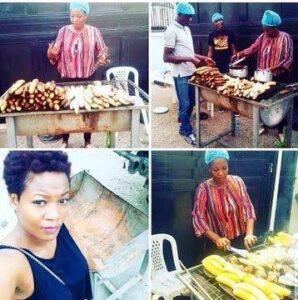 Lucy once revealed to her fellow housemates that she used to sell roasted plantain (Bole) in Calabar.
Well, she's not out yet out of the 'Bole' hustle as her bio on Twitter reads;
I'm just a girl who sells bole & still believes in the future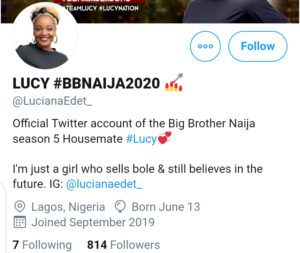 She Is A Tacha Fan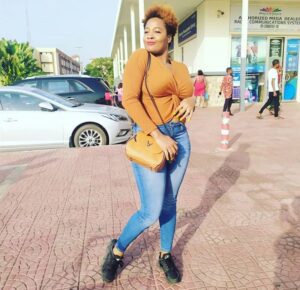 Lucy is one housemate mercy fans dislikes because she once shaded her during the last Big Brother Edition. Check out the tweet below: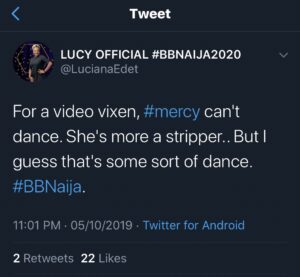 Apart from that her old tweet below suggest she's a strong fan of Tacha.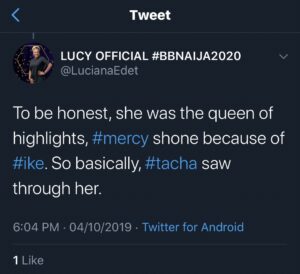 Sometimes She Doesn't  Take Her Bath When it is Cold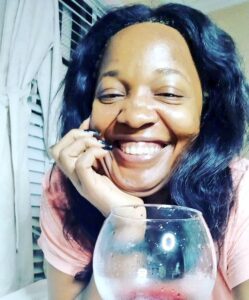 Ok this here is quite hilarious. We all remember the drama that happen between Tacha and bathing  in last year BBNaija edition. Many called her names for taking her bath once her day and deem it unhygienic for a lady.
As a fan of Tacha, Lucy took her sides and revealed she sometimes doesn't take her bath when the weather is cold. Check her tweet below: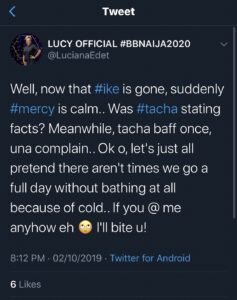 If you enjoyed reading this, you will also enjoy these:
#BBNaija: 3 Suprising Things Many People Don't Know About Ozo
#BBNaija: 3 Suprising Things Many People Don't Know About Erica