Top 10 African billionaires and their networth 2020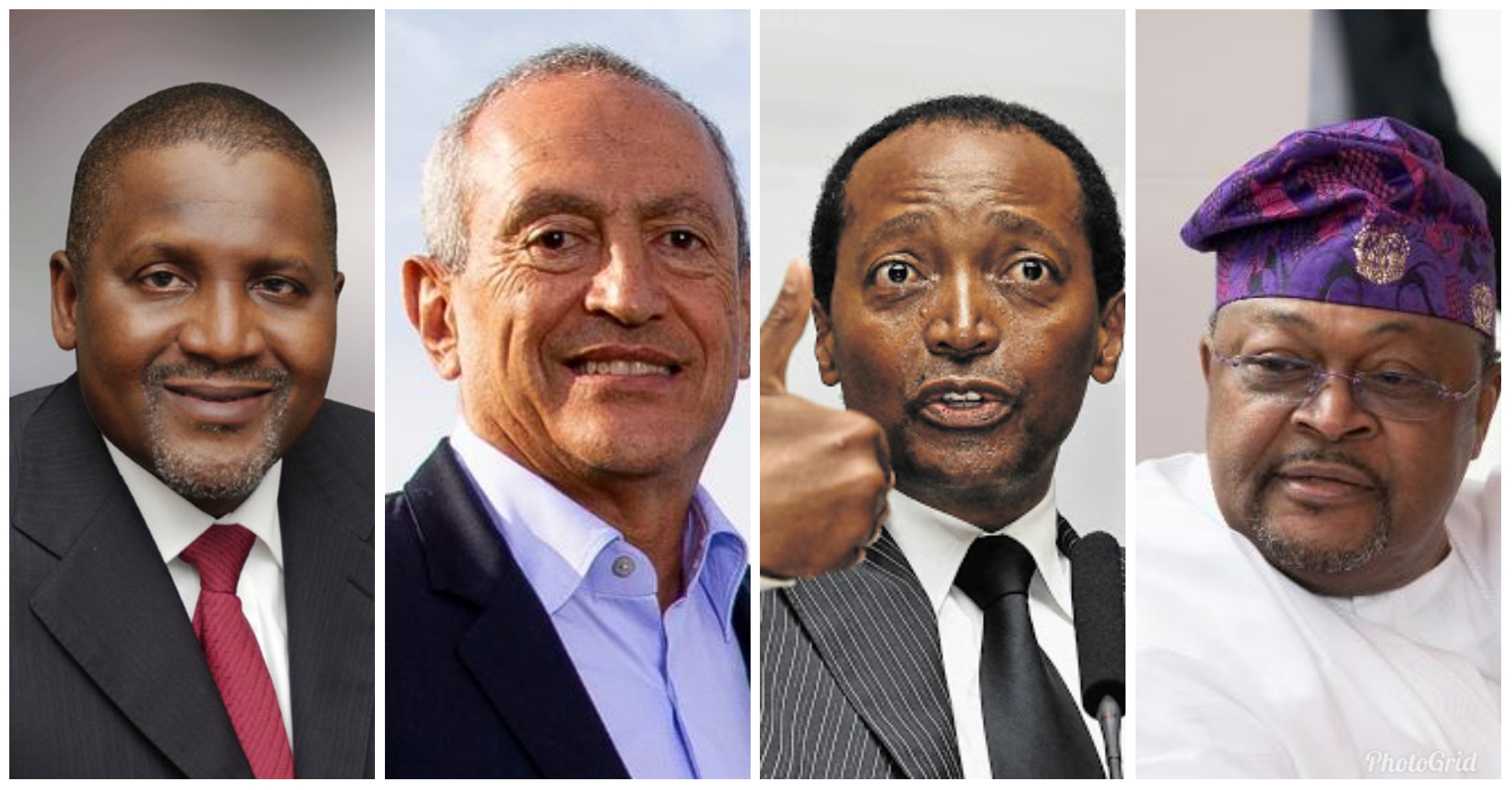 Checkout the complete list below
Top 10 African billionaires and their networth 2020
1. Aliko Dangote – $10.1 billion
Africa's richest man, founded and chairs Dangote Cement, the continent's largest cement producer. Dangote also owns stakes in publicly-traded salt, sugar and flour manufacturing companies.He is aged 62 with a net worth of $10.1 B.
2. Nassef Sawiris – $8 billion
Nassef Sawiris is a scion of Egypt's wealthiest family. He runs OCI, one of the world's largest nitrogen fertilizer producers, with plants in Texas and Iowa; it trades on the Euronext Amsterdam exchange. He is aged 59 ,with a net worth of $8 B.
3. Mike Adenuga – $7.7 billion
Nigeria's second richest man, built his fortune in telecom and oil production.His mobile phone network, Globacom, is the third largest operator in Nigeria, with 43 million subscribers. He is a 66 years old man with a net worth of $7.7 B.
4. Nicky Oppenheimer – $7.7 billion
Oppenheimer, heir to his family's fortune, sold his 40% stake in diamond firm DeBeers to mining group Anglo American for $5.1 billion in cash in 2012.He was the third generation of his family to run DeBeers, and took the company private in 2001.He is aged 74 with a net worth of $7.7 B
5. Johann Rupert – $6.5 billion
Johann Rupert is chairman of Swiss luxury goods firm Compagnie Financiere Richemont. The company is best known for the brands Cartier and Montblanc. It was formed in 1998 through a spinoff of assets owned by Rembrandt Group Limited (now Remgro Limited), which his father Anton formed in the 1940s. Rupert is 69 years old with a net worth of $6.5 B
6. Issad Rebrad – $4.4 billion
Issad Rebrab is the founder and CEO of Cevital, Algeria's biggest privately-held company. Cevital owns one of the largest sugar refineries in the world, with the capacity to produce 2 million tons a year.He is aged 76 with a net worth of $4.4 B.
7. Mohamed Mansour – $3.3 billion
Mohamed Mansour oversees family conglomerate Mansour Group, which was founded by his father Loutfy (D.1976) in 1952 and has 60,000 employees. Mansour established General Motors dealerships in Egypt in 1975, later becoming one of GM's biggest distributors worldwide. He is aged 72 with a net worth of $3.3 B.
8. Abdulsamad Rabiu – $3.1 billion
Abdulsamad Rabiu is the founder of BUA Group, a Nigerian conglomerate active in cement production, sugar refining and real estate.He is aged 59 and with a net worth of $3.1 B.
9. Naguib Sawiris – $3 billion
He's chairman of Orascom TMT Investments, which has stakes in a major asset manager in Egypt and an Italian internet company, among others.A 65 years old man with a net worth of $3 B.
10. Patrice Motsepe – $2.6 billion
Patrice Motsepe, the founder and chairman of African Rainbow Minerals, became a billionaire in 2008 – the first black African on the Forbes list. Motsepe also has a stake in Sanlam, a listed financial services firm, and is the president and owner of the Mamelodi Sundowns Football Club.He is a 57 years old man with a net worth of  $2.6 B
Tags :
Africa
Billionaires
Dangote