Pushbullet Full Review – Features, Setup process and all you need to know – The features, benefits, payment method and exciting things you can do with the Pushbullet app are contained in the article below. The Pushbullet app is a fascinating application available for your Android, iPhone and web browsers allowing your connection on the go.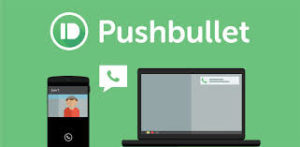 Getting organized can be quite the blessing, but not many of us can do so. This is quite understandable if you are like me and have to deal with a million messages on Facebook, Instagram, Twitter, Gmail and of course the old-fashioned message button on my smartphone.
My clients are all on the internet or somewhat a mile away, so I need some application which will bring me all notifications and messages at a fantastic speed to keep me efficient and ultimately keep my clients happy.
When I searched around, it wasn't entirely easy to get an application that can do this for me; many of these applications require that I run all messaging software on different levels, meaning to check whatever; I have to be logged into the right device.
Read also SAMSUNG NOW THE WORLD'S TOP CHIPMAKER
Ultimately, i have to swap from my laptop, to my Tablet, and to my smartphone from time to time to keep up with the flow.
As a writer, this means more errors to deal with and a consequent significant decrease in my level of expertise. This was when I found the Pushbullet app.
The Pushbullet app is quite famous among the tech inclined. It is no doubt while it stands out. It is merely an app that will serve as the bridge between your smart device, tablet, and desktop.
Yes, this application is hilariously the most significant admission to my collection of software because it has helped maximize my use of every one of the other apps on my phone. Also, it is available for both the Android and iPhone devices, so extra awesome.
Pushbullet Full Review – How the Pushbullet app works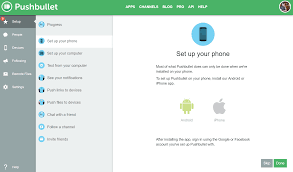 What the Pushbullet app does merely helps you manage notifications from all your apps( I mean the ones you select anyway) to all devices at once. So let's say you are working on an Essay with your desktop, and then comes a message from your Aunt.
You can quickly see this same message on your desktop, which can be viewed through the SMS tab. That way you can do different things, such as respond, like, dislike or even dismiss this message without having to think about where you last saw your phone. So easy right, and it works for all of your messaging apps, the full fireworks.
Pushbullet Full Review – Getting the Pushbullet for your android device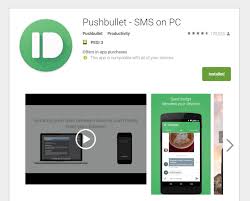 And now I bet you are excited to begin using this application. You can do so in quick and easy steps. Stick around as I explain the process to you.
To begin using the Pushbullet app, the first thing you will have to do is set up your desktop version. To do this, visit the pushbullet website on your desktop web browser.
You can set up by using your email ID and password, but for a faster set up, I recommend using either your Google or Facebook account.
And now comes the tricky part, you will have to download this application singularly for all your devices and browsers. You can get all of this from the Pushbullet website. Download and install app and extensions on all your devices to get started.
And now, you will have to sign in using either your Google or Facebook account to sign in your phone( or tablet). Now click all apps you wish access to other devices. Do this on every one of your devices, so you can access the second Whatsapp account you own, all different Email IDs and of course your Facebook account(s).
Once done, you are good to go. You can now view notifications from all your devices while holding onto a single device.
Pushbullet Full Review – Getting the Pushbullet app for your iPhone device
The Pushbullet app for your iPhone pretty much follows the same process as the Android version. But strictly, you can only use your Google or Facebook account via the website on your Mac computer to get started. Even when you do have a Windows laptop and an iPhone device, you can still have them synced. Also, the Pushbullet app allows you to share images, links and Google maps across your devices in a straightforward interface.
With the Pushbullet app is ideal for both your Android and iPhone devices for many more reasons.  One of this is your ability to use the channels button. This will let you also view a list of selected channels to get the latest on spots, video games, technology.
And with the Pushbullet app, you can bypass the problems of filesharing from your Android or Windows laptop device to your iPhone.
Pushbullet Full Review – What it would cost you when using Pushbullet
First things first, Push bullet is a free service. All of its standard features can be accessed via the free version. If you want so much more, you can upgrade to thePushbullet pro version. This cost for $4.99 per month. Or you can pay an outright payment of $39.99 per year at a monthly fee of $3.33 per month.
There is no free trial for the pro version, but you can get your money back within 72 hours.
The Pushbullet Pro version is a lovely thing. One of its coolest features is the "mirrored notification action support." This means you get more than responding or dismissing; you can snooze the notification.
Also, you have access to unlimited messages, 100GB storage space and the ability to send files up to about 1GB.
This is so much when compared to the 100 messages per month, 2GB storage space and 25MB maximum file transfer in the free version.
Pushbullet Full Review – Limitations of the Pushbullet app
A Pushbullet app is fantastic software, and although it can get a bit complicated with many notifications from your other devices, you have the sole control to choose what you wish connected.
However, you can only reply pop up notifications from Whatsapp but cannot send a fresh message. This might be a huge problem, but anyway, you can buy cost it by setting up your Whatsapp web to come in handy at such times. Another hurdle is the fact that notifications received do not self-destruct. This can be quite the problem if multiple messages come through in the next hour. Therefore you will have to painstaking go through each of them and then either dismiss or respond to them.
Pushbullet Full Review – Verdict
Pushbullet is one powerful tool that will give you access to keeping a prompt outlook towards all messages and notifications coming into your devices at all times. Notwithstanding the hurdles of setting it up, when you have multiple gadgets to attend to, it can be quite the blessing.
Tags :
How the Pushbullet app works
Pushbullet
Pushbullet Features
Pushbullet Review
Pushbullet Set up process