The delusion of Tinubu, Osinbajo collision over 2023 presidency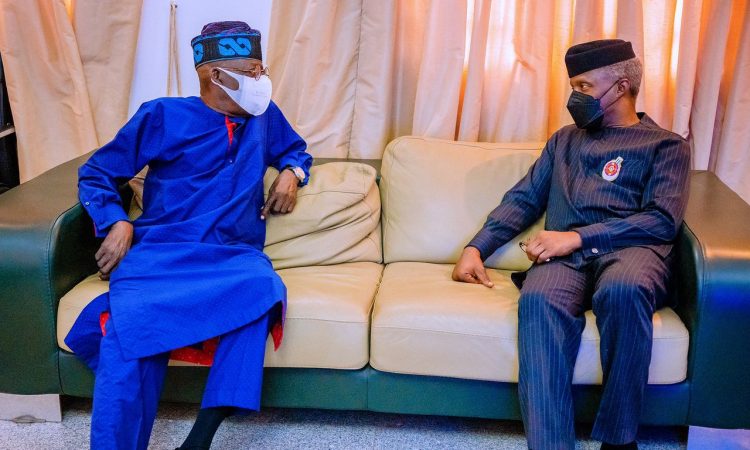 The Nigerian political space was agog with curiosity and bewilderment following a news report from THISDAY of October 24, 2021 under the headline, "Snubbed by Tinubu in London, Osinbajo Ready for Presidential Fight of His Life."
Without exaggerating, it was one of the most defining and confusing reports as the story gained traction and caused a burning sensation in the media space. Many talks of Osinbajo, Tinubu's rift became a trending topic on various social media channels as everyone began to have a bite from the story. To talk about the story is to delve into chaos of narratives, thanks to the agenda setting role of the media, which over the years, has had huge influence on people's perception on issues and political matters.
The story had insinuated a fictitious clash of interest between the Vice PresidentOsinbajo and the former Lagos State governor and national leader of the ruling All Progressives Congress (APC), Asiwaju Bola Ahmed Tinubu. The Nigerian media, afterwards, latched on to the narrative and projections that Osinbajo may part ways with his political mentor over their alleged 2023 presidential ambitions, and it became a hot topic for political debates and discussions.
Although, Senator Babafemi Ojudu, one of the aides of the Vice President, had dismissed such claims with a statement, but it did little to change people's perspective as talks of rift and disagreement between the two politicians continued to persist on social media.
It is in the midst of all these speculations and conjectures that the two notable personalities in the ruling APC finally had a show down on Friday, October 29, 2021 in a closed-door meeting in Abuja, putting an end to the alleged conflict of interests in their 2023 presidential bid.
Both of them posed for photographs before heading into a closed-door session in what looked like both the political godfather and son were playing politics with the psyche of the poeple. The media charade on the alleged crack between them is more of an illusion than reality. Tinubu has earned a reputation of a master strategist and it seems the Vice President too has grown exponentially in the Nigeria's political landscape. Eight solid years as a former Attorney General of Lagos State under Tinubu, popularly known as "Jagaban" and six years as the Nigeria's Vice President is no small feat. The meeting was an affirmation, both are still bound together by a strong sense of collegiality but remained unperturbed during the razzmatazz playing out in the media.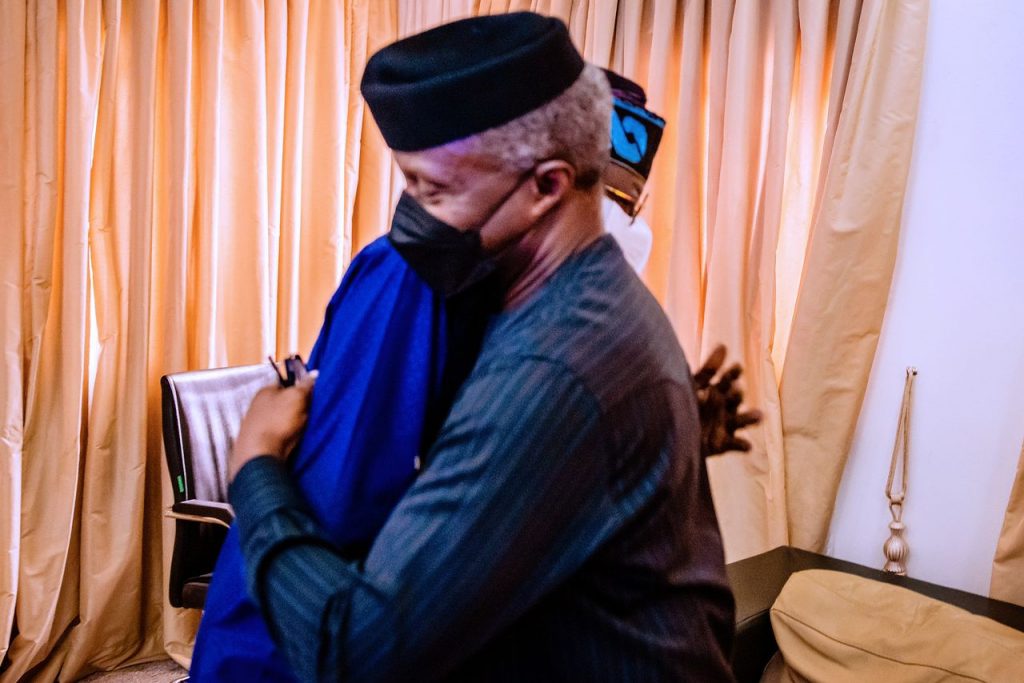 It may be true that Tinubu, for some time, has been eyeing the 2023 presidency which many people believe he deserves and has paid his dues, although he has not publicly declared his interest to run for the highest office and now that there is an increased pressure from every corner of the country rooting for the Vice President to throw his hat into the ring, coupled with the fact that Osinbajo is increasingly appearing to be the best option for 2023 due to his unassailable credentials. Still, the Vice President has at different intervals dismissed any talk of 2023 presidency maintaining he is focused on helping Nigeria overcome its many challenges.
If Osinbajo decides to run, he would have to do so receiving blessings from his political benefactor and mentor. Like him, or loathe him, what you cannot take away from Tinubu is his leadership skills. He is a great leader who, has over the years, made great sacrifice to promote stability and democracy in Nigeria. He has invested a lot in building a generation of leaders and Osinbajo is one of his nurtured talents into national leadership position.
No matter the way we spin it, Tinubu will make the right choice by paving the way for national interest and mood. He has done it before and this won't be the last. In case you are in doubt of Asiwaju Bola Ahmed Tinubu's reputation and sacrifice for the party, let me leave you with some of his words he made at his 7th annual colloquium, held at Eko hotel in Lagos.
"They said I connived and conspired my way into the VP seat. They lied so easily that it was the price I extracted from General Buhari to support his bid. If not, I would destroy the party on the altar of my ambitions.
"They were wrong. I pulled myself out of contention. The very brilliant and capable Professor Yemi Osinbajo became our VP candidate. A man of integrity and impeccable character. Alas, this sent Jonathan's henchmen into disarray. In the quiet of their private closet, even they could see clearly enough through the darkness of their own hearts to recognize that our ticket was so much better than theirs."
Tinubu said his ambition won't override the national interest as he gave up his vice-presidential ambition then voluntarily, for the sake of the party. For the Jagaban that we know, if he did it then, whatever will affect the strength in the unification of the ruling APC, and most especially Nigeria, if it is hinged on the ambition of this uncompromising democrat that we know, he will give it up. As it is evident now, Tinubu and Osinbajo are one.
• Popoola is a political analyst, content analyser and news aggregator