These 20+ EndSARS Protest Pictures Will Give You Goosebumbs!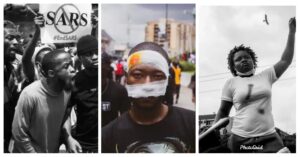 For close to a week now, Nigerian youths have stormed the streets in various states of the country to air their voices on the need for the Federal Government to dissolve infamous unit of the Nigerian police, SARS.
The hashtag, #EndSARS has gained global recognition as the world hears the voices of Nigerian youths who are tired of the nefarious activities of SARS which includes but is not limited to "Profiling, Extortion, Harassment, Killing, Assault".
Over the course of the protest, some fire pictures have been shared across the internet. On this article, we'll share some of the ones we absolutely love.
---
Note: naijmobile don't own, or take credit for any of these pictures. We're simply just sharing them