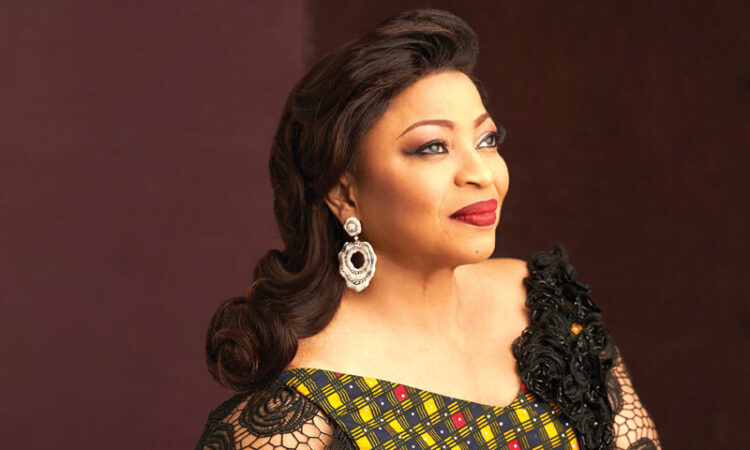 When it comes to billionaires in Nigeria, we all know that Nigerian business mogul, Aliko Dangote lead the pack with a net worth of over over 10 billion dollars. However, how exactly do Nigerian female billionaires compare to the men? In no particular order, below are 10 female billionaires in Nigeria and their net worth.
1. Folorunsho Alakija
Net Worth: $ 2.5 billion
Folorunso Alakija (born 15 July 1951) is a Nigerian billionaire businesswoman. She is involved in the fashion, oil, real estate and printing industries. She is the group managing director of The Rose of Sharon Group which consists of The Rose of Sharon Prints & Promotions Limited, Digital Reality Prints Limited and the executive vice-chairman of Famfa Oil Limited.
She is the richest woman in Nigeria.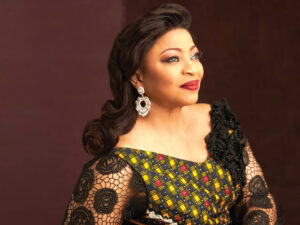 Early life and education
Folorunsho was born on 15 July 1951 to the family of Chief L. A. Ogbara in Ikorodu, Lagos State. She attended her nursery education at Our Ladies of Apostles, Lagos from 1955–1958. At age seven, she travelled to the United Kingdom to continue her primary education at Dinorben School for Girls in Hafodunos Hall in Llangernyw, Wales between 1959–1963. On completion of her primary education, she attended "Muslim High School" in Sagamu, Ogun State, Nigeria. She then returned to England for her secretarial studies at Pitman's Central College, London.
Career
Alakija started her career in 1974 as an executive secretary at Sijuade Enterprises, Lagos, Nigeria. She moved to the former First National Bank of Chicago, which later became FinBank now acquired by FCMB (First City Monument Bank) where she worked for some years before establishing a tailoring company called Supreme Stitches. Within a few years, as Rose of Sharon House of Fashion, it became a household name. As national president and lifelong trustee of the Fashion Designers Association of Nigeria (FADAN), she left an indelible mark, promoting Nigerian culture through fashion and style
2. Hajia Bola Shagaya
Net Worth: $950 million.
She is a business magnate and the managing director of Practoil Limited, one of the biggest importers and distributors of base oil in Nigeria. Hajia Bola Shagaya once not into oil from the start. She once worked with the audit department of the Central Bank of Nigeria (CBN).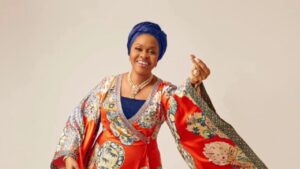 Early life and education
Hajia Bola Shagaya (MON) was born on 10 October 1959, the daughter of Adut Makur a Sudanese seamstress and Emenike Mobo a Nigerian Public Servant. She is currently married to Alhaji Shagaya, a Kwara State-based transport mogul, and has six children. Sherif Shagaya, Hakeem Shagaya, Deeja Shagaya, Naieema Shagaya, Amaya Roberts Shagaya and Adeena Roberts Shagaya. Her children are dispersed across the world, most reputably growing the Real Estate empire in both Europe and the United States. Also involved in minor business and industry holdings across Asia and Australia. Bola Shagaya is known to have had her secondary school education at Queens School, Ilorin, and her tertiary education at Ahmadu Bello University, Zaria and Armstrong College in California, where she studied economics and accountancy
Career
She started her career with the audit department of the Central Bank of Nigeria before venturing into commercial activities in 1983. Her business experience started with the importation and distribution of photographic materials and she introduced the Konica brand of photographic materials into the Nigerian market and West Africa.
Hajia Bola Shagaya is also the managing director of Practoil Limited, one of the largest importers and distributors of base oil in Nigeria, serving local lubricant blending plants. Her businesses also includes huge investment in real estate, spanning across major cities in the country with over three hundred employees.
She is currently on the board of Unity Bank plc (formerly Intercity Bank) and has been for over eight years. She is also a member of the recently inaugurated Nepad Business Group – Nigeria. Hajia Bola Shagaya is a patron of the Fashion Designers Association of Nigeria (FADAN), and a fashion and art enthusiast who supports and encourages the fashion and art industry. She also loves sports, especially polo. On 22 July 2010, she was awarded by the President of the Federal Republic of Nigeria, Dr. Goodluck Ebele Jonathan (GCFR), the title of Member of the Order of the Niger (MON).
3. Daisy Danjuma
Net Worth: $1.7 billion
Daisy Ehanire Danjuma (born 6 August 1952) is a Nigerian politician who was the senator representing the Edo South Senatorial District of Edo State at the Nigerian Senate from 2003 to 2007. She also re-contested during the Nigeria general election in 2011 but was unsuccessful
Daisy is a respected lawyer and politician. During her time in politics, she also served as the chairman of South Atlantic Petroleum (SAPETRO). At the moment, Daisy Danjuma is a member of national and international bar associations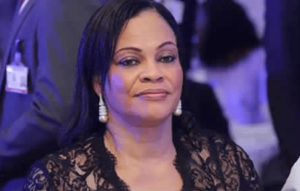 Education and career
Danjuma attended government secondary school in Benin city, Edo state, before studying at Ahmadu Bello University, Zaria, where she graduated with a BA in Law in 1976. In 1977, she was called to the Nigerian Bar as a practicing lawyer. Danjuma undertook her national service in the NYSC as a State Counsel with the Ministry of Justice of Lagos State, and was a legal counsel to the Legal Aid Council of Nigeria. She worked as an Executive Assistant at Nigerian Acceptances Limited (NAL), a Merchant Bank, from 1977 to 1978. She was Company Secretary/Legal Adviser to the Nigerian Television Authority (NTA) from 1982 to 1992. Danjuma was elected Senator of the Federal Republic of Nigeria (2003-2007) representing Edo South.
4. Fifi Ejindu
Net Worth: $850 Million
Fifi Ejindu is the fourth richest women in Nigeria. She is a famous businesswoman and architect. Apart from architecture, she is into real estate, oil and gas. She is a business mogul and philanthropist.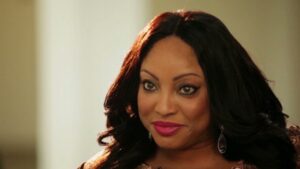 Education and career
Fifi then went on to study architecture at Pratt Institute, a private design college in Brooklyn, New York. In 1983 she graduated from Pratt, becoming the first black African woman to be awarded a B.Arch. from the institute. After graduating, Fifi took courses at the Massachusetts Institute of Technology before she went on to work at a private firm in New York City. Fifi then returned to Pratt Institute to get her Masters in Urban Planning after which she returned to Nigeria.
On her return to Nigeria, Ejindu started the Starcrest Group of companies. The company started in 1995, and comprises Starcrest Investment Ltd., Starcrest Associates Ltd. and Starcrest Industries Ltd, all involved in real estate, oil and gas, and building construction.
Princess Fifi describes her style of architecture as Neo-traditional which she defines as "building a new project [with] new materials, but with traditional and old style details and features"[5] and hence most of her projects, as she explains, bring back the Renaissance period.
In 2013, she was awarded the African Achievers African Arts and Fashion Lifetime Achievement award
5. Dr Stella Okoli
Net Worth: $800 Million.
Dr Stella Okoli is a famous pharmacist and the founder of Emzor Pharmacetical Industries Limited. She once held the prestigious position as the chairperson of the Manufacturers Association of Nigeria (MAN).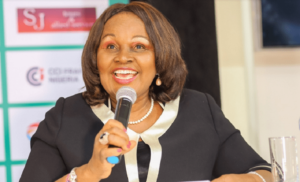 Early life and education
Stella was born in Kano State, Northern Nigeria into the family of Felix Ebelechukwu and Margaret Modebelu, descents of Nnewi in Anambra State. She started her formal education in 1954 after enrolling as a pupil at All Saint Primary School, Onitsha before proceeding to complete her secondary school education in 1964 at Ogidi Girls Secondary School, Ogidi.
In 1969, Stella graduated from the University of Bradford after studying Pharmacy. She also holds an M.Sc certificate in Biopharmaceutical after graduating from the University of London, Chelsea College in 1971
6. Ngozi Okonjo Iwela
Net Worth: $493 million
Ngozi Okonjo Iwela is a Nigerian entrepreneur, economist, an investor, an international development expert and a business magnate. She was the former Director General of World Bank. If we add her knowledge and wisdom, to her wealth, it will surely make her the richest woman in Nigeria.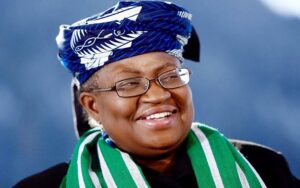 Education and personal life
Okonjo-Iweala was born in Ogwashi-Ukwu, Delta State, Nigeria where her father Professor Chukwuka Okonjo was the Obi (King) from the Obahai Royal Family of Ogwashi-Ukwu.
Okonjo-Iweala was educated at Queen's School, Enugu, St. Anne's School, Molete, Ibadan, and the International School Ibadan. She arrived in the US in 1973 as a teenager to study at Harvard University, graduating magna cum laude with an AB in Economics in 1976. In 1981, she earned her Ph.D in regional economics and development from the Massachusetts Institute of Technology (MIT) with a thesis titled Credit policy, rural financial markets, and Nigeria's agricultural development. She received an International Fellowship from the American Association of University Women (AAUW), that supported her doctoral studies.
She is married to Dr. Ikemba Iweala, a neurosurgeon. They have four children – one daughter, Onyinye Iweala (AB, MD, PhD, Harvard) and three sons, Uzodinma Iweala (AB, Harvard, MD, Columbia), Okechukwu Iweala (AB, Harvard) and Uchechi Iweala (AB, MD, MBA, Harvard).
During her campaign to become the next Director General of the WTO, it was revealed that Okonjo-Iweala became a US citizen in 2019 after spending several decades working and studying in the United States. Given the ongoing trade tensions between China and the US, analysts commented that the disclosure would be a contributing factor in shaping China's attitude towards her.
Career
Okonjo-Iweala had a 25-year career at the World Bank in Washington DC as a development economist, rising to the No. 2 position of Managing Director. As Managing Director, she had oversight responsibility for the World Bank's $81 billion operational portfolio in Africa, South Asia, Europe and Central Asia. Okonjo-Iweala spearheaded several World Bank initiatives to assist low-income countries during the 2008 – 2009, food crises, and later during the financial crisis. In 2010, she was Chair of the IDA replenishment, the World Bank's successful drive to raise $49.3 billion in grants and low interest credit for the poorest countries in the world. During her time at the World Bank, she was also a member of the Commission on Effective Development Cooperation with Africa, which was set up by the Prime Minister Anders Fogh Rasmussen of Denmark, and held meetings between April and October 2008
7. Mo Abudu
Net Worth: $ 10.5 Million
Mo Abudu is the chairman and Chief Executive Officer (CEO) of EbonyLife TV. She is a Nigerian media mogul, media personality and philanthropist. In September 2020, she signed a multi-title deal with streaming giant, Netflix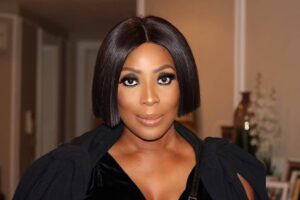 Career
Mo Abudu started her professional career as a recruitment consultant in 1987 with the Atlas Recruitment Consultancy firm in the UK, from where she moved to Starform Group in 1990. She returned to Nigeria in 1993 and was head-hunted by Arthur Andersen to head the Human Resources and Training for oil giant, ExxonMobil. She is the founder of Vic Lawrence & Associates Limited She went to create, produce and present Moments with Mo, later founded a television station (EbonyLife Television) and has been producing entertainment contents till date
8. Bimbo Alase
Net Worth: $750 million
Bimbo Alase is a Nigerian female billionaire whose journey to riches is always inspiring. Bimbo started a small business owner of a furniture store in Lagos which she later transitioned to Leatherworld furniture company. Today Leatherworld is a multi-million-dollar empire and of biggest furniture company in Nigeria.
9. Linda Ikeji
Net Worth: $40 million
Linda Ikeji is someone who doesn't need introduction. Through blogging, Linda has gathered for herself lots of wealth with her blog said to be worth millions of dollars. Apart from her blog she also owns Linda Ikeji TV, a video on demand platform that offers amazing and original contents.
10. Tiwa Savage
Net Worth: $5 million
Tiwatope Savage-Balogun populary know as Tiwa Savage is a Nigerian singer, songwriter and actress. She is undoubtedly the richest female musician in Nigeria. She has released four studio albums with several hit songs.