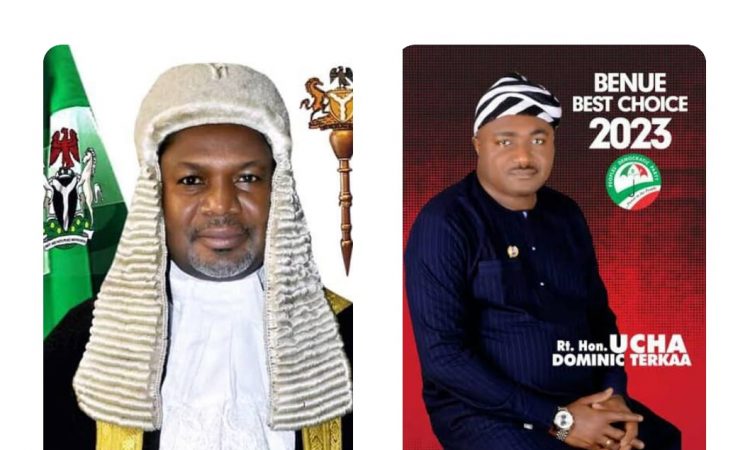 …. As the  Speaker perfect Plans For  His Suspension ln The House.
It is no longer news that the Benue PDP crisis continues to brew beneath the surface like molten Magma which very soon will erupt as a full-blown volcano.
Though the Chief Press Secretary to the Governor If Benue State, Nathaniel Ikyur yesterday issued a press release debunking rumors that, Governor Ortom and the National Chairman of the PDP, Iyorchia Ayu are working at cross purposes on who will emerge as consensus PDP Governorship candidate which has been zoned to Jechira bloc, Vandeikya LGA to be precise, his submission may have been premised on the relationship amongst the stakeholders but not the aspirants as Speaker of the Benue State House of Assembly, Titus Uba (aka daddy's boy) who is the acclaimed anointed candidate of the National Chairman continues to fight every other Governorship aspirant insight.
Our Medium reliably gathered that, as the stakeholders are bill to conclude the consensus arrangement this week, two of the favored Governorship aspirants from the favored zone to produce Benue Governorship are members of the 7th Benue state house of Assembly, namely Hon. Dominic Terkaa Ucha of Tiev constituency and the current speaker of the Benue state house of assembly, Titus Uba from Kyan constituency, both of Vandeikya local government.
Information gathered from the Benue state house of assembly and our sources who pleaded anonymity says, while the PDP assembly Caucus in the house wishes to play their part by endorsing Honorable Terkaa Ucha on Thursday in their sitting as a consensus candidate, the Speaker who has lost out on all front from the stakeholders to the assembly caucus but rather only banking on the National Chairman to make him Governor, has perfected plans with the Majority Leader to hurriedly suspend Rt. Honorable Terkaa Ucha tomorrow from the house.
This according to our sources is to enable him to compel the house to plead with Governor Samuel Ortom to consider him. Even in the Benue Assembly, the speaker has no backing but intends to scheme his intentions illegally with the aid of the leadership of the house.
All efforts to get the Honorable Speaker Titus Uba and Honorable Ucha for comments before going to press proved abortive but our source confided in our medium to expert exchange of blows in the assembly on Thursday plenary.
Recall that, the speaker Titus Uba has earlier in the life of the Assembly removed Dominic Terkaa Ucha as the Chairman of the Committee on Local Government and Security just to reduce Ucha's influence.
Pundits says that the speaker is a drawing man who holds onto anything insight as he was recently seen in a viral video fighting with stakeholders and youths in his constituents over money issues.