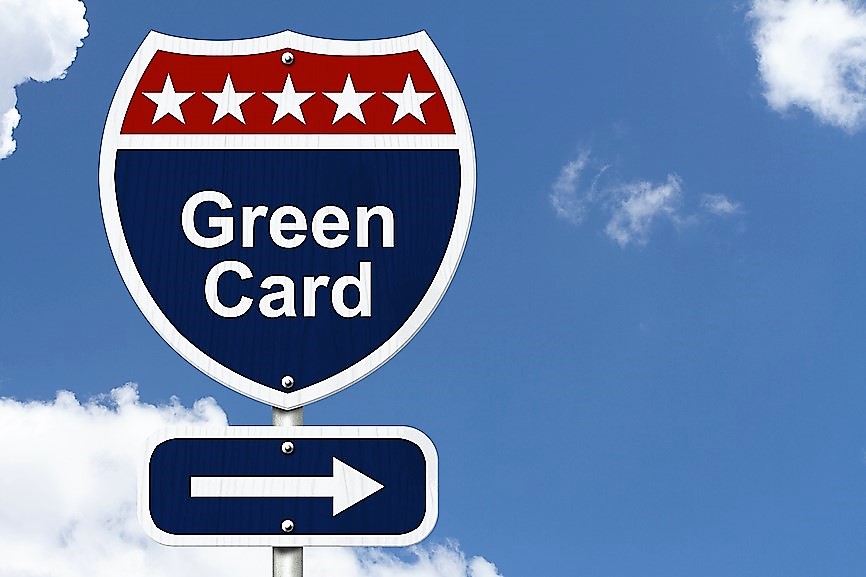 The United States is a country of Possibilities and white picket fences! Many people have only imagined what the American dream will be like especially with the BUZZ of Hollywood, Disneyworld and the Statue of Liberty. To visit its iconic cities such as California, Newyork, Las Vegas, and Chicago would be just amazing, but what about the thought of staying in the US forever as a citizen, that would just be Epic! But to enjoy such a rare privilege, you would require what is known as a Green Card.
What is a Green Card?
A permanent residence permit VISA is also known as a Green Card. Anyone who has been issued a Green Card is officially a legal resident of the USA. The Green Card can be applied from outside the US or while already in the country on a different Visa.
US Green Card Application Process
Check for your Eligibility Status
Fill the application to register for permanent residence or adjust status with the US Citizenship and Immigration Services (USCIS).
You then submit all of your supporting documents within the allocated time frame.
Check for the fees involved and make payment
Receive feedback from the USCIS and schedule a date for the interview.
When you receive your date, ensure to attend your interview at the US consulate in Lagos or Abuja, but if you are already in the United States, you should attend at any of the USCIS offices there
Read also Nigeria Issues Biometric Visa to Prevent Illegal Entry.
Documents Required Applying for a US Green Card
You need an immigration petition done by your petitioner.
You require a Green Card Application Form called "Form I – 485" Application to Register Permanent Residence or Adjust Status.
The above are the two main application needed to be completed before getting all the required documents listed below; before getting the document, you must ensure that you know your eligibility status, once you are certain about that, then you can proceed with the following documents below;
Proof of petitioner's legal Status in the US
Your Birth certificate; both you and the petitioner
Proof of Relationship, with the family member living in the US
Banking Details and Proof of Income
Police clearance certificate
Certified Marriage Certificate (if applicable)
Previous Marriage termination records( if Applicable)
Tertiary Education Records (if applicable)
Previous Employment Records (if Applicable)
Records of any Court, Police or Prison(if Applicable)
Military Records(if Applicable)
Cost of a US Green Card Application
The main application form which is the Form I – 485 cost $985
Petitioner Fees include; Family or Marriage Application – $535, Employment Application – $700, Diversity Visa (Green Card Lottery) – $330
After processing the Visa, the applicant will then further with the application process in his local US embassy, this usually cost anywhere from – $120 -$325, depending on Visa type.
The diversity Visa attracts a one-off Payment of $330, to get direct entry into the draw.
Once your Visa is approved you will need to pay the administrative cost of $220
This brings the total cost of US Green Card Visa application to anywhere between $3,220 – $3,425 (which is ₦1,159,200 or ₦1,233,000).
How long does a US Green Card Application Take?
The US Green Card Visa application takes anywhere from a few months to sometimes, even years, this is due to the myriads of documents to be filled and protocols involved.
However, a petition for a spouse or family dependent is the quickest and it is granted in less than four months sometimes.
P.S. Your application length most times is determined by the type of Visa applied for.