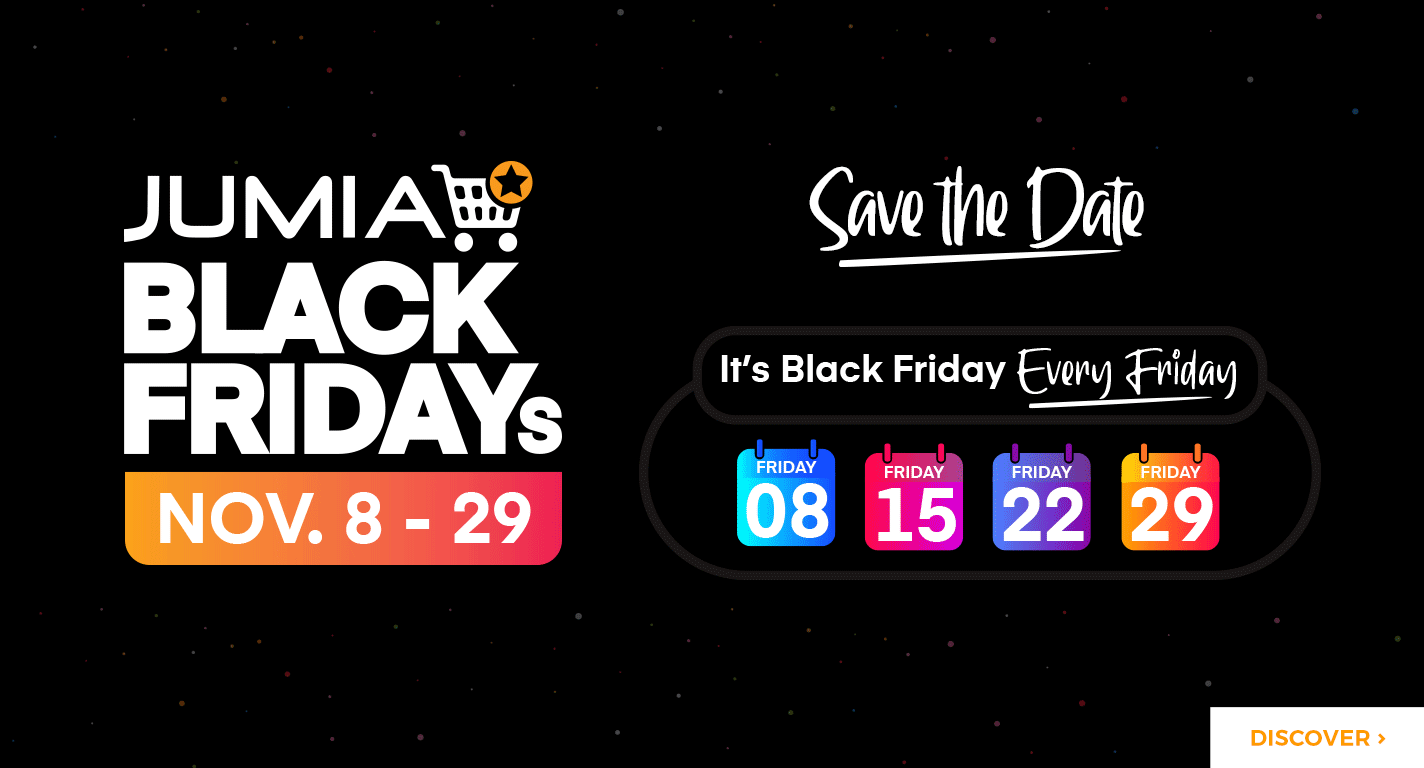 Jumia Black Friday 2019 – Jumia, as we all know, is one of the biggest e-commerce online shopping website store in Africa. It was established in 2012 and has a significant presence in many African countries including Nigeria. The Jumia Black Friday is here again and only those who prepare early enough would get the biggest pie.
In June 2019, Jumia celebrated her 7th year anniversary in the e-commerce industry, they were so generous enough to offer a lot of massive discounts majorly on smartphones and electronics just to grace the occasion. So many exciting deals came up during that period, I don't know if you were lucky enough to grab some. For those who did, congratulation, if you didn't, don't worry because another bigger
one is coming forth to put a big smile on your faces. This bigger one has come, in case you don't know, it is called Jumia Black Friday.
Some of you have heard of it before, others haven't. For the sake of those who don't really know what Jumia Black Friday is all about, here is a brief explanation.
What is Jumia Black Friday?
Jumia Black Friday is the day when online shoppers compete to get the best deals on electronics, fashion, home, and sporting goods, toys, video games, appliances, tv sets, tablets, smartphones, laptops and lots more; all at their lowest prices.
Still can't wrap your head around it? here is a simpler explanation.
In Jumia Black Friday, a smartphone that is normally sold for N30,000 can be ordered to the fastest buyer for N15,000  or less but you have to be fast enough to place an order before anyone does. Jumia doesn't usually offer this massive and generous slash on all products, only a few products would get this generous slash in price.
Jumia Black Friday 2019 Date
This year is bigger and better than ever, with not just one day of amazing deals,  days superb deals. Yes! From November 8th to 29th 2019, Jumia will be giving customers more days, more deals and even more convenience! However, the sales will only take its discount effect on Fridays. Meaning these dates: November 9th, 15th, 22nd and November 29th, 2019.
Jumia Black Friday Best deals
There is a lot to be expected this year Jumia Black Friday Deals especially on Fridays. Jumia is giving away so much. First off, there will be a Treasure hunt where customers will receive 99%  off on products. For example, You will have to pay only N200 for a phone worth N200,000. You can get more info about the treasure hunt here. There will also be a flash sale with up to 70% off on products. What's more, there will be free deliveries and Live giveaways for app users only!
How To Get Prepared for Jumia Black Friday 2019.
First things first. Draft a list of items you want to purchase by outlining a scale of preference for what you need.
Narrow your list by striking out the unimportant things. Having much on your list can get you confused.
Save some reasonable amount of money for the event.
Truth be told Treasure Hunt is nothing but pure luck so capitalize on flash sale deals
Make sure you have a good internet connection so that you don't miss flash sales.
Visit the Jumia site or log in to the Jumia app 30 minutes before the events start by 12 am when most of the juicy deals are revealed.
Finally, You should stick to Naij Mobile and check it often so that you don't miss out on the latest update about the Jumia Black Friday, 2019.
Tags :
Jumia
Jumia Black Friday