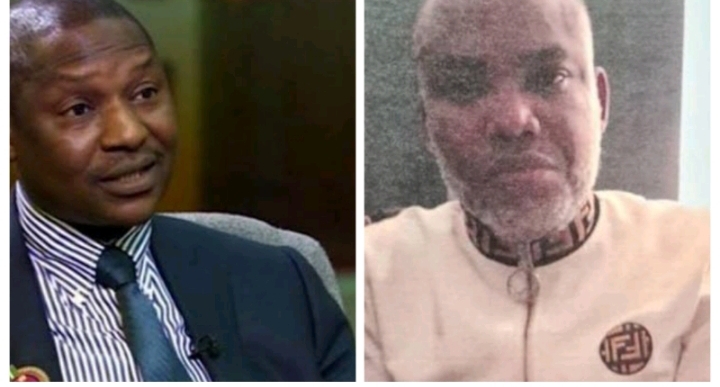 Nigerians have been reacting to the arrest of Nnamdi Kanu by the federal government so that he could continue to face his trial in a court in Abuja.
Kanu's arrest was made known by the Attorney General and Minister of Justice, Abubakar Malami. Ever since Malami disclosed that Kanu has been arrested, the issue has been making serious headlines and trending too. Many Nigerians have been reacting to the issue. But, there are two grey areas that the federal government has not given more details on concerning Kanu's arrest.
In fact, the federal government did not give much details about Kanu's arrest thereby leaving many people in suspense. This article discusses the two grey areas that the federal government needs to open up and give more details on as far as Kanu's arrest is concerned.
Where Kanu was arrested.
Till now, many Nigerians and many others are at loss as to where in particular Kanu was arrested. This point is very important because Kanu is known to base in UK. He has successfully lived in UK for years without being arrested or extradited. Moreover, there was no report that Kanu was arrested in UK this time. Nigerian government did not also say that Kanu was arrested in UK.
Deji Adeyanju, an Abuja-based human rights activist, on Wednesday disclosed how Nnamdi Kanu, leader of the Indigenous People of Biafra (IPOB), was deceived and arrested.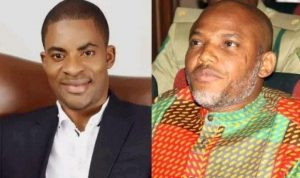 Adeyanju alleged that the Nigerian government used a politician Kanu trusted to lure him out.He alleged that the politician was used to deceive Kanu into engaging in a peace talk.
In a tweet, the popular activist said a top ranking official in the government disclosed this to him in confidence.
"Kanu was not arrested in the UK.

"Someone high up in the Govt told me they used a guy, a politician Kanu trusted, to deceive him to come for peace talks and arrested him in one of the African countries.

"You will recall that Buhari even made comments that IPOB should give peace a chance," Adeyanju wrote
Who could be the politician that stabbed him at the back?