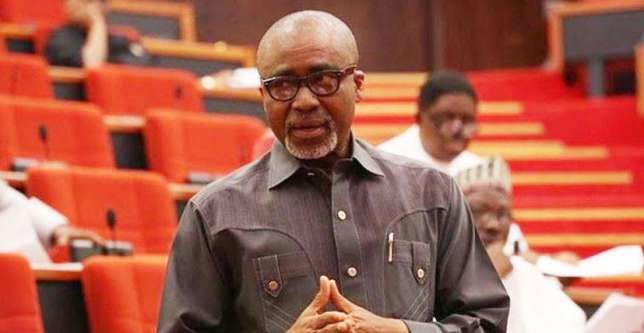 Enyinnaya Abaribe, senate minority leader, says the only person from the south-east region in the Aso Villa is a photographer.
Abaribe said this on Friday when he featured on Sunrise Daily, a programme on Channels TV.
Amid the intense agitation from south-east leaders for Igbo presidency in 2023, Abaribe had said it was non-negotiable for an Igbo person to replace President Muhammadu Buhari.
Recently, David Umahi, governor of Ebonyi state, defected from the Peoples Democratic Party (PDP) to the All Progressives Congress (APC) as a result of "injustice."
In reaction, Abaribe who is a member of PDP, said Umahi's defection is merely an occurrence and will be evaluated properly during the next presidential election.
He emphasised the importance of back channels in government, adding that it was the reason for the relevance of Mamman Daura, Buhari's nephew, in the present administration.
"Before, every part of this country was represented in the Aso Villa, so when you want to do government business because sometimes government business is done from back channels, so if you have a problem or they want to do some consultations, you make a call into the Villa, you call to your countryman and say please, can you tell oga this or that so that we can have this talk, there is none today inside the villa. There's one guy, his name is Sunny, I think he's a photographer, " he said.
"So, Umahi is going to talk to who? Ok, because he is governor, he can talk to chief of staff, he can go to see the president but what about others?"
However, checks by TheCable showed that nine presidential aides are from the south-east zone.
They are Francis Anatogu, senior special assistant (SSA) to the president (public sector matters); Nneka Ikejiani, senior technical assistant to the president (delivery unit); Somkele Awa- Kalu, special assistant to the president (research); Tochi Nwachukwu, special assistant to the president (power privitisation) and Nkechi Chukwueke, special assistant to the president (community engagement).
Others are Nkoli Anyaoku, special assistant to the president (DCOS); Nonye Ojekwe, special assistant to the president (political matters); Louisa Chinedu-Okeke, special assistant to the president (finance) and Juliet Chikaodili-Nwagu, special assistant to the president (justice sector reforms and international relations).
Sunday Aghaeze, better known as Sunny,  personal assistant to the president (state photographer), is from Delta state which falls under the south-south zone.
Despite being informed of the existence of these presidential aides, Abaribe insisted that there is no "proper person" from the south-east in the presidential villa, saying, "we had access, we do not have that anymore. Of course, you can have low-level people being appointed, but what do they do that you can say these people make a difference in our lives in the south-east?"