The Northern Gov Sule's endorsement thickening call for Osinbajo Presidency in 2023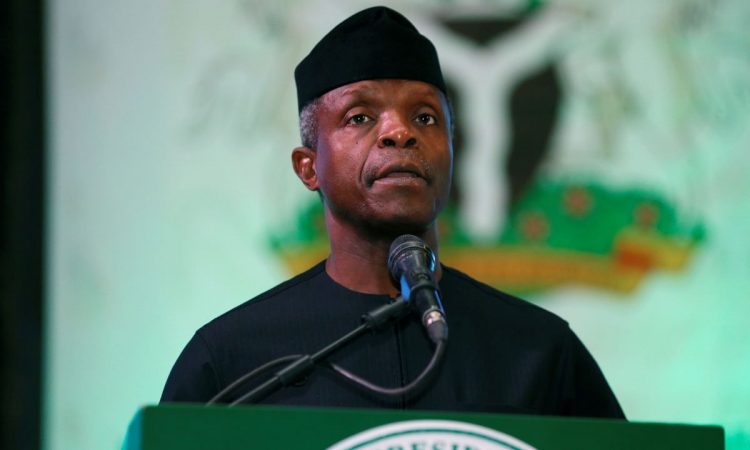 The recent praise-singing of the current Nigeria's Vice President, Prof Yemi Osinbajo, SAN, spearheaded by the Nassarawa State Governor Abdullahi Sule, among other core Northerners and different political groups means something a bit surreal which might just be unfolding before us ahead of the 2023 presidential elections.
The Northern Governor Abdullahi Sule's candour in projecting the Vice President, Prof Yemi Osinbajo, SAN, a Southerner, as a credible and preferred successor of President Muhammadu Buhari, a Northerner, is something seen as having nothing to do with tribalism, ethnicity, religion but everything to do with Osinbajo's ideals and values and leadership aptitude, which he publicly extolled, projecting him as not only a "beloved son" of the Northern elites, but Nigerians generally.
Osinbajo's endearing personality has won him many friends in the North, which has made him become a constant focus of public attention, as well as a rallying point for people of diverse ethnic differences in the country and those disaffected with the government.
There appears to be a paradigm shift in the media narrative, and those who we thought had the lead may indeed be struggling to play catch-up. There seems to be a perceptibly dominant mood of national consensus for Osinbajo 2023 presidency as all fingers steadily point to his direction whenever 2023 presidential debate pops up either on TV screens, in the pages of the national dailies or during Nigerians general day-to-day political discussions.
The latest endorsement by Governor Sule of Nasarawa State has now made solid the people's quest to reproduce the Vice President, Prof Osinbajo, in Aso Rock, come 2023, now as the helmsman.
Osinbajo, who hails from Ikenne Ogun State, in the South-West Nigeria has proven to be an enormously galvanizing figure not only in the ruling All Progressives Congress (APC), but across all the six geo-politicial zones in the Nigeria. Party men, political and support groups, civil society organizations, politicians, governors and political analysts across all divides have since swung into projecting his good image as the right candidate to take over the highest political office in Nigeria.
They remain staunch, unperturbed and indefatigable in flying the Osinbajo's card despite several denials of declaring any presidential ambition. And with 2023 already in sight, Osinbajo's loyalists believe delay could be dangerous and have kick-started his presidential campaign without waiting for his official declaration.
Let's talk about the recent visit of the Progressive Consolidation Group (PCG), to the Nasarawa State Government House in Lafia. The group which was led by its national chairman, Rabiu Aliyu Kurfi, had thronged the state house and the palace of the Emir of Lafia with shouts of Osinbajo Presidency glued to their mouths. They claim they had come on a voluntary mission to solicit and canvass supports that would enable Osinbajo succeed his boss, President Muhammadu Buhari, in 2023.
"The continuity of the good values already set by APC, and especially, by the President by himself; if political mentoring is anything to go by and I think it should, then, political mentoring of President Buhari has already gotten a scion in Osinbajo. That if political continuity should be the prevalent thing, then, obviously by getting Osinbajo, Nigeria will be better for it," Kurfi, the group's National chairman had stated.
The Nassarawa State governor, Abdullahi Sule, wasted no time in professing his love for the sprightly 64 -year-old man, joining other leagues of notable Nigerians who have over time publicly expressed their preference for Osinbajo's leadership magnetism, thereby giving a nod for his 2023 candidacy. He even went further by saying the ruling APC would support Osinbajo if he decides to contest calling Osinbajo a "sellable product."
When the governor featured on 'Politics Today," a live programme on Channels TV on the 20th September, 2021. Governor Sule also spoke in a glowing manner of Osinbajo's stabilizing figure, saying he has the ability to calm frayed nerves during heated and tensed situation. He recounted how the former Attorney General of Lagos State usually regulates NEC meetings after hearing all arguments from all sides.
Hear him: "Professor Osinbajo is a loyal Vice President. He is a man of God. He is a gentle man. He is a professional lawyer. He is a party man and he is more than qualified actually to be the President of this country, there is no doubt about it.
"Osinbajo is a man that I respect. The man has not started selling himself yet. One thing I like about the Vice President is his patience. Each time we are having NEC meetings, he will hear all kinds of argument and the man will be patient enough to control the meetings and he is able to gather and get people's support. If I sit with you I can keep talking the good things about Osinbajo."
An evidence of the believability of Osinbajo's personality and the confidence reposed in him, is the admission that came recently from governor Sule. The Nassarawa State governor has distinguished himself as a liberalist despite being a Northerner whose political views are neither pro-North nor pro-South but as a true Nigerian.
Sule's courage and boldness as the first Northern governor to publicly push for Osinbajo candidacy ahead of 2023 elections is remarkable. Although, the governor's disclosure might sound intangible and may not necessary represent the stance of the APC "gang of four" who have reportedly taken over the structure of the party but such statements from a respectable party man usually run very deep, and are quite fundamental. Faith in leadership is something that does not come cheap.
If the ruling APC is truly serious about retaining power in 2023 and beyond, it is safe to start looking in the direction of Osinbajo as he remains the most sellable product in the ranks of APC, admittedly. Whether the Vice President will declare his ambition sooner, later or never it still remains to be seen.
As general elections draw closer, Professor Yemi Osinbajo is basking in the love of many Nigerians, at the moment and it has left some wondering what it would be like to have Dolapo's husband permanently in Aso rock.