The Top 20 Most Liked Instagram Photos Right Now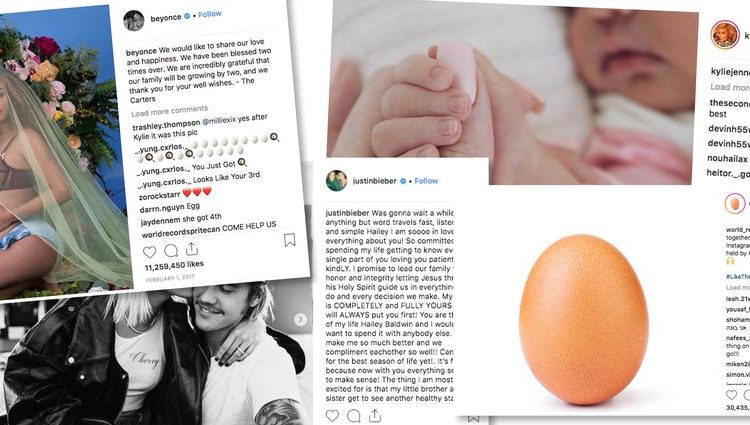 Most Liked Instagram Photos
Celebrities are just like the rest of us. Especially if their most popular Instagram photographs are of their children, engagement announcements, or major career changes. Kylie Jenner, Cristiano Ronaldo, and Billie Eilish, for example, can amass millions of Instagram likes while sleeping. Here are the top 20 most liked Instagram photos right now.
20. Billie Eilish and her photoshoot for British Vogue
Billie Eilish makes her first of many appearances, starting with an image from her renowned Vogue shoot.
19. Ariana Grande Engagement
Ariana Grande's engagement to Dalton Gomez was a happy and positive post in the midst of all the negative news of 2020.
18. Kyle Jenner wishes Travis Scott a happy birthday.
Next, we have a touching post from Kylie Jenner in which she wishes Travis Scott, the father of their child, a happy birthday.
17. Billie Eilish's hair is blonde.
Billie Eilish, who is known for her gothic and dark appearance, clearly surprised a lot of people by going blonde. Several of her posts (from before the Vogue shoot) showcasing her new look have made the list, and this is the first of them.
16. Messi bids Maradona final goodbye.
The death of football legend Diego Maradona in 2020 shook the football world to its core. Our next entry is Messi's Instagram tribute to the man, who is regarded as one of the greatest of all time.
15.Jennifer Aniston and some old friends
Jennifer Aniston gathered her Friends co-stars for a cozy Instagram photo. Despite its poor quality, it has become enormously popular and has sparked news reports from all over the world.
Aniston also set a record by becoming the person with the most followers on Instagram in the shortest amount of time. The feat took her only five hours and sixteen minutes, according to Guinness World Records.
14.Billie Eilish's British Vogue photoshoot II
And we're back with Billie Eilish, who shared a photo from her Vogue shoot.
13.Billie Eilish's third British Vogue photoshoot
And we're back with Billie Eilish and the cover of her British Vogue feature.
12.Ariana Grande marries Dalton Gomez
This is Ariana Grande's second and by no means final post on the list. This was taken at her recent wedding to Dalton Gomez.
11. Kylie Jenner and Her Daughter
Here's a sweet photo of Kylie Jenner and her daughter, Stormi Webster.
10.Billie Eilish with Blonde Hair II
Taken just a few days after her post showing her hair style.
9.Ariana Grande marries Dalton Gomez 
And now we're back to another Ariana Grande post, this time with some more wedding photos.
8.The death of Chadwick Boseman 
The news of Chadwick Boseman's death from cancer at the age of 43 shocked the world. His family announced his death on Instagram and paid tribute to the super gifted actor.
7.Ronaldo bids Diego farewell
Another tribute to the legendary footballer makes the list as proof of Maradona's huge presence in the game's history. It's from Cristiano Ronaldo this time.
6.Lionel Messi with the trophy
Another sports entry follows, with Lionel Messi celebrating after Argentina won the Copa América trophy.
5. Billie Eilish's Fourth British Vogue photoshoot
This is by far the most popular British Vogue photo Eilish has shared on Instagram. If things continue as they are, it could move up the list.
4.Billie Eilish third photo with Blonde Hair
This is Eilish's final post on this list, and it has become incredibly popular in such a short period of time. That means she has the most entries of anyone, and by a wide margin.
3.The Last Instagram post by XXXTentacion
This was the rapper XXXTentacion's final post before his death in June 2018.It's the only image on his Instagram feed.Surprisingly, a music video was released posthumously in which the rapper attends his own funeral.
2. Ariana Grande marries Dalton Gomez.
Omg, this post jumped to second place in such a short period of time. Another Grande post, and more wedding pictures.
1. An Egg
No, your eyes are not deceiving you. This tiny speckled egg has gone viral hitting headlines across the country as Instagram's most 'liked' photo.
As part of a worldwide campaign to 'troll' Instagram and break a world-record, this single photo has taken the throne and racked up a staggering 55 million+ likes to date.