Ughelli All Stars wins Oke Umurhohwo maiden football tournament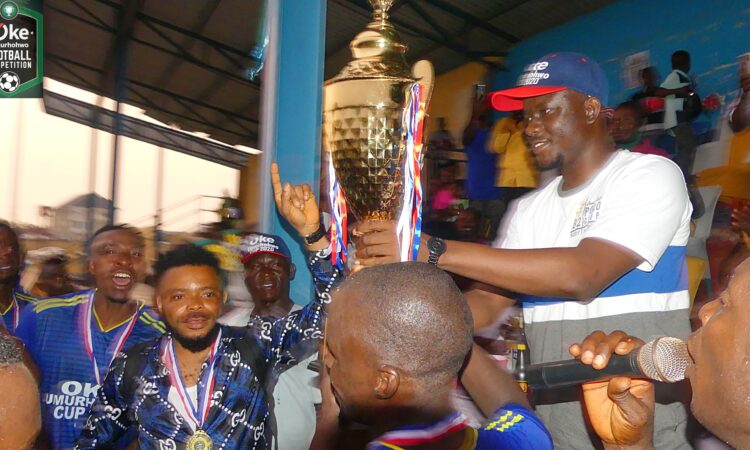 Weeks of thrilling football matches in the Oke Umurhohwo Football Cup came to an end on Sunday, producing Ughelli All Stars FC as the winner of the maiden tournament.
Ughelli Township Stadium was filled to the brim with spectators in adherence to COVID-19 protocol as Ughelli All Stars beat Sheraton FC 3-1 to lift the trophy, which earned them N120,000 cash prize and a set of jersey.
Sheraton FC was rewarded with N60,000 cash and a set of jerseys as runner-up and N30,000 cash went to Ughelli United that came third in the tournament.
The award for the best player of the tournament went to a player Efe of Ughelli United while Mr. and Mrs. Izu Harrison went home with the best fan of the tournament award.
Oke Umurhohwo Football Cup drew 16 teams in a fierce contest that intended to identify talents in Ughelli, Delta state, and was sponsored by Mr Oke Umurhohwo, a marketing and communications professional.
On why he organised the tournament, Mr. Umurhohwo told an ecstatic crowd that he is passionate about promoting local talents and believed "this football competition has shown the enormous talents possessed by young people at the grassroots and I'm impressed by what I have seen so far."
"It is good to see that promising prospects that the nearly 200 footballers who featured in the competition exhibited and that has emboldened my resolve to provide every necessary support for them to fulfill their respective dreams," he noted.
He acknowledged the tireless efforts of the local organising committee for the success of the inaugural Oke Umurhohwo Football Cup, adding that support from traditional, political, and community leaders was awesome.
Signalling that the competition will be a yearly event, Mr. Umurhohwo appreciated the cash and kind supports that contributed to the success of the competition, noting that "we look forward to working with you for a bigger and better second edition."
The Ovie of Ughelli, His Royal Majesty, Wilson Ojakovo JP, Oharisi III, represented by his Personal Assistant, Chief Edevwie, was in attendance at the finale of Oke Umurhohwo Football Cup that had other dignitaries such as the President-General of Ughelli Descendant Union, Olorogun P. Omobaye, and his Vice, Comrade Superior Umurhohwo.
Other dignitaries included Hon Oghenenovo O.S, the Organising Secretary of Ughelli Descendant Union, Comr. Christ Ekete, HOD, School of Health, Ufuoma, Comr. Akpojiyonwi, the President of Ighwre-Ovie Community, Bro Henry, representative of Bishop Kingsley Enakirerhi of Heroes of Faith Ministry, Prince Kohwo, President of Ujode Community, Members of the Delta State Sports Commission and Organising Secretary, Mr. Robor, Wrestling trainer, Omonigho Johnson, Boxing coach, Mark Odede, Handball coach, Okotie and a host of others.
Fans and guests were treated to a spectacular moment when Madam Ocean and Madam FC Izam entertained them with beautiful dancing steps that matched the historical event. Gift items were also doled out to fans and made the event a memorable one.
See more pictures from the event below