GOtv Smallie Price 2024 and Complete Channels List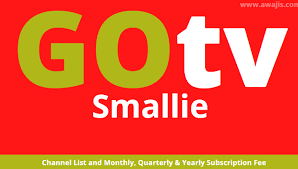 Good day readers!
If you're looking to save some money on your satellite TV package in 2024, GOtv Smallie is definitely worth considering. It's their most affordable option yet still provides a decent selection of channels to keep you entertained.
In this post, I'll give you an overview of the GOtv Smallie price in Nigeria for 2024, as well as the full and updated channels list. Knowing the details upfront will help you decide if it fits your budget and viewing needs.
The GOtv Smallie price remains very reasonable. For a low cost, you still get access to over 30 channels covering genres like movies, news, sports and kids shows.
GOtv Smallie Channels List in Nigeria
TVC Entertainment (27)
Trybe (97)
Spice TV (10)
BLITZ (30)
Al Jazeera (40)
TVC News Nigeria (45)
NTA News 24 (46)
CHANNELS (48)
NTA Parliament (115)
Jim Jam (61)
Sunna TV (84)
LAGOS TV (90)
NTA International (91)
SILVERBIRD (92)
AIT (93)
ONMAX (96)
Wazobia TV (98)
Galaxy TV (99)
OGTV (100)
Arewa 24 (101)
WAP TV (102)
RSTV (103)
EBS (104)
BCOS (105)
ITV Benin (107)
BISCON TV (108)
Liberty TV (110)
R2TV (112)
RAVE (113)
NTA 2 (114)
FAITH (80)
ISLAM CHANNEL (81)
Emmanuel TV (82)
Dove TV (83)
Naija FM (301)
Wazobia FM (303)
GOtv Smallie Price 2024
The price of GOtv Smallie in 2024 is N1,100 monthly, N2,900 quarterly and N8,600 yearly.
How Many Channels Are on GOtv Smallie?
There are 36 channels on GOtv smallie package.
Conclusion
I hope this full breakdown of GOtv Smallie's updated 2024 pricing and channel lineup has been informative for you readers! As you can see, for well under N2,000 monthly it really packs a good value punch.
While the selection isn't as extensive as pricier packages, Smallie still delivers the basics across key genres. And that quarterly payment option really saves money compared to paying each month.
Do double check the channel guide to make sure your most watched shows and entertainment categories are accounted for. But for a no-frills satellite TV option on a strict budget, Smallie is definitely worth considering.
Be sure to let me know if any other questions come up before deciding. And feel free to leave a comment below if this guide was helpful!