Lagos Hosts Maiden High Heels Race Competition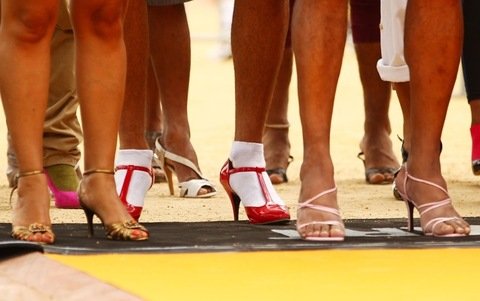 Lagos will host the first edition of 4-Inch High Heels Race Competition on November 18. The competition which would feature seventy carefully selected ladies within the age range 17 to 28 years, seeks to promote smart gait and confidence in ladies while on high heels.
The CEO of DAK Marketing Online Services (DMS), Dede Kalu, who is also the organizer of the high heels race competition stated that, ladies ought to practice walking on heels to avoid accidents. He related an incident he witnessed while speaking in Lagos on Tuesday, as the motivation for organizing the event.
"We are concerned about the numerous injuries ladies encounter while wearing heels and crossing highway or walking on streets, offices and at home because they lack confidence to walk smartly on them.
"I witnessed a young lady crossing the expressway but could not run fast enough and a vehicle knocked her down.
"I and some others carried her in my car to a hospital,'' he said.
Dede added that  adequate arrangement for medical personnel and ambulances as well as security personnel has been made to ensure the event runs smoothly.
"The police will be on hand to take charge of security,'' he said.
Mrs Mercy Ukpai-Uma, Senior Client Service Manager of the organisation, told NAN that the 70 participants were selected after an audition. She added that top celebrities were involved in the screening and selection of the participants.
Read also; Arsenal Beach Soccer Team Will Play At Copa Lagos 2017
Speaking on the rewards for contestants in the competition, Mrs Ukpai-Uma said, "The first person will go home with N100,000, the second, N70,000, and the third person, N50,000.
"The fourth to 20 will go home with consolation prices such as soaps, wears and cosmetics.
The high heels race competition is expected to hold at the CMD Field, Magodo Shangisha, Ikeja, from 10a.m on the designated date.
Tags :
competition
high heels
Lagos
race