In 2018, a 17-year-old boy's wish came true as he stood on the touchline with three minutes and extra time remaining to come on as a substitute, despite the fact that he didn't have enough time. It was his greatest wish ever.
He had one of the crazy victories of the Old Trafford hierarchy under Ole Gunner Solsjkaer, 3-1 against Paris Saint-Germain, in front of 47,929 football fans, in a high profile competitions in Europe. He became Manchester United's youngest ever Champions League debutant.
Four days later, it was as if the whole dream was already implemented; the English-born striker joined the list of the youngest debutant in Manchester United's Premier League history in a 2-0 defeat against Arsenal.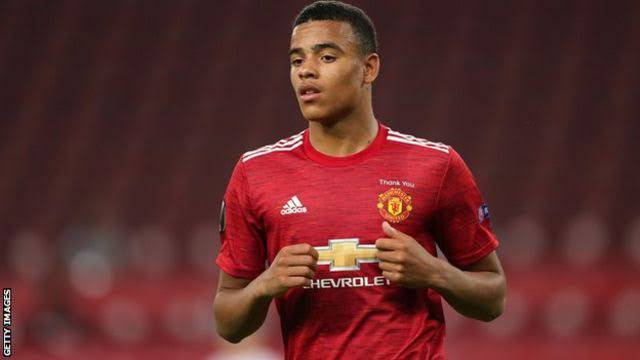 The following year, the young talent made another history with his first senior goal against Astana in the Europa League to become Manchester United's youngest ever goal scorer in European competition at 17 years, 353 days.
The star boy became a fan favorite after scoring 17 goals in 49 appearances, with the Old Trafford faithful singing "Mason Greenwood" at every edge of the stadium week after week.
Greenwood's development continued over the next three years, as he continued to be a first-choice player, scoring 12 goals the following season and six the following season.
Greenwood made his way into the starting eleven under interim manager Ralf Ragnick despite a team full of talented players, a privilege he never expected.
With all the milk and honey of being a well-liked footballer, Greenwood took a turn for the worse on Sunday, January 30, 2022, when he rewrote his name in the public record under suspicion of rape and assault.
"We can confirm that a man in his 20s has been arrested on suspicion of rape and assault," a Greater Manchester Police statement said.
Mason Greenwood was paraded as the suspect under investigation in a social media image and video, inciting hatred among football fans and Manchester United.
According to sources, an incident occurred between the wonder-kid and his girlfriend, Harriet Robson.
The young talented striker has been suspended from training and matches, as well as having his name removed from Manchester United merchandise.
Despite the fact that the case is still being investigated, Mason Greenwood's sponsor deal with Nike has been suspended, and EA Sports has removed him from FIFA 22, which he could lose if found guilty.
When you need help and don't get it, it's painful; Greenwood's situation became similar after some of his teammates unfollowed him on Instagram.
With the fear of never stepping foot on Old Trafford soil again and losing his friends and deals, his beautiful dreams are beginning to turn into a "totally destroyed career."
The 20-year-old player is now awaiting trial. If things go badly for him, he will never be regarded as a good footballer; rather, the public will regard him as a molester.
His chances of playing for England in the upcoming 2022 World Cup are in jeopardy. According to sources, England head coach Gareth Southgate is following Manchester United's lead in banning Greenwood from team activities. Mason Greenwood's long dream is on the verge of disappearing into a river, never to be found again.