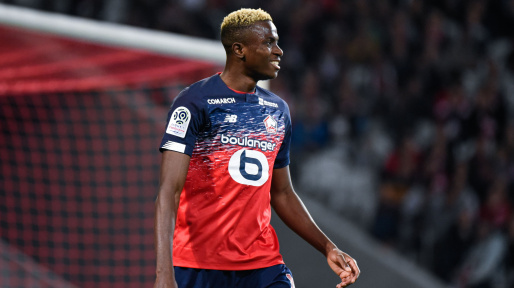 Victor Osimhen Biography – He is Lille's main man. When he does not perform, expecting nothing exciting from his team but on his day, he is unplayable. He is a supremely-talented striker with an eye for just one thing putting the ball in the back of the net. This is nobody else that Victor Osimhen
 AllSportsGist presents the biography of a Nigerian Football Genius dubbed "Next Rashidi Yekini" Our Victor Osimhen Biography brings you a complete account of notable events from his childhood time to date.
Victor Osimhen Biography – Early Life and Family Background
 Starting off, his full names are Victor James Osimhen. Victor Osimhen as he often called was born on the 29th of December 1998 to his late mother and father, Mr. Patrick Osimhen in the city of Lagos, Nigeria. Victor was the last of six children born by his parents.
His family surname which is "Osimhen" means 'God is good' in the native Ishan dialect. Like many great footballers in Southern Nigeria, Victor came was born into a poor family. Before he was born, his parents made the decision to relocate to Lagos for a better life.
Even while at Lagos, Victor and his family struggled to eat. Life was so tough for them to the extent that Victor, who was a toddler join his mum to sell sachet water and biscuit.
 Read also Joe Aribo Biography; Early life, Road to Fame, Relationship life and Untold Facts

Victor Osimhen Biography – Education and Career Buildup
Victor Oshimen attended Olusosun Primary School in Ikeja, Lagos. The football field in this School served as the football meeting point for all school pupils and youngsters in the community.
After Hawking in the daytime, Victor and join other boys to go to the football field to watch the local team play. His elder brother was a local football star in the community.
As a young lad, Victor was a fan of Chelsea FC and Super Eagles of Nigeria as he watched the team play in viewing centers. His love for football and the support he had from his parents created the desire to become a footballer
Early Career Life
It took no time for Victor's dream of being a professional footballer to begin to materialize. A local football scouts noticed him and invited him for a trial with Ulitmate Strikers Academy which he passed.
In 2014, Victor Osimhen's performance with Ultimate Strikers earns him an invite to Nigeria's U-17 team. Victor was vital in helping the team qualify for the U-17 FIFA World Cup which was held in Chile which he went on to win. At the U-17 World Cup, He bagged the highest goal scorer award after scoring 10 goals and also the FIFA U-17 World Cup Silver Ball.
Victor Osimhen Road to fame
After the World Cup, it was revealed that the likes of Arsenal, Man City, and Tottenham Hotspur, were after his signature. Surprisingly Victor Osimhen rejected all offers because another middle-weight club had offered him the biggest money.
Moments after he was named the 2015 African Youth Player of the Year at the CAF Awards in Abuja in January 2016, Osimhen announced to the world that he would be pursuing his professional career with German Bundesliga club, Wolfsburg.
Victor Osimhen Nightmares
Osimhen put pen to paper on a three-and-a-half-year pre-contract deal until June 2020 and made his debut in the German top-flight in May 2017. Barely four months of making his Bundesliga debut, troubles began to loom for Victorian. A shoulder injury sent him into the operation room which brought a premature and sad end to his first season.
As if that was not enough, Osimhen nightmares continued shortly after recovering from his shoulder injury. This time, it was sickness that sent him the sick bed, making him miss pre-season and most painfully, missing out on Nigeria's 2018 world cup selections.
Victor Osimhen Rise to Fame
It took Osimhen two seasons to bounce back from his nightmares. The inconsistency due to injury and sickness saw him depart from Wolfsburg without scoring a single goal.
Osimhen picked himself up and went ahead to attend summer trials with Belgian clubs Zulte Waregem and Club Brugge but malaria which ruin his chances of getting signed by either club.
On 22 August 2018 was the date thing went from bad to excellent for Victor. It was the day Belgian club Charleroi signed him on a season-long loan deal. Victor Osimhen made his full debut on 22 September, scoring his first goal as a professional with a brilliant backheel.
Victor had a successful spell with the Belgian side, playing 36 games and scoring a whooping 20 goals, a feat which made Charleroi, activated their option to get him permanently. After dominating football the Belgium League, Victor felt it was the right time to climb his way back to the top. In July 2019, he made an upward move in his career by signing for Ligue 1 team, Lille OSC.
Luckily, no sickness or injury came this time around as Victor dazzled in the French League, scoring and creating goals. The rest, as they say, is now history.
Victor Osimhen Relationship Life
As at the time of writing, Osimhen appears to be single and has preferred to focus on his career rather than looking for a girlfriend or making public his relationship. However, there was a rumor that he dated a certain blessing for 2 years before the relationship collapsed.
 Victor Osimhen Personal Life
 Read about the personal sides of Pepe including his likes and dislikes so you can have a clearer picture of him.
Victor is patient, calm and hardworking. He believes nothing is impossible and enjoys listening to contemporary RnB. He dislikes gossips, pessimistic people.
Victor Osimhen Lifestyle
 Victor lives a simple and modest life. Looking back from his harsh childhood and poor family background, it is certain that Osimhen would know how to manage his millions.
Victor Osimhen Record Breaker
On the 7th of October 2018, Victor became the first player to score in each of his first five home games in Ligue 1since Alex (Dias) with St Etienne in 1999.
 Untold Facts about Victor Osimhen
 To wrap up our Victor Osimhen biography, here are some facts that are rarely included in his bio.
Do you know?
Ultimate Strikers academy earned over 1.3 billion Naira from Victor Osimhen transfer to Wolfsburg.
Osimhen loves listening to R&B with his favorite still remaining "I believe I can fly", Indeed he flew from rags to riches
His favourote Nigerian artist is Olamide.
He has more than 50,000 thousand followers on Instagram
FACT CHECK
Thanks for reading our Victor Osimhen Biography. At Allsportsgist, we give you the most gripping, surprising and fascinating gist about the life story of football players and the same time strive for accuracy. So if you see something that does not look right in this article, kindly notify us by dropping a comment.